Parts of Speech
We use thousand words everyday..to speak..to write..to read..to listen.. But, have you thought before that those so many words belongs only to 9 (NINE) groups?
Parts of speech are what we simply call word classes or word groups. They are so basic but crucial to study that we can improve our English competencies, in speaking and listening, as well as reading and writing. Here they are:
Nouns
Pronouns
Verbs
Adjectives
Adverbs
Determiners
Prepositions
Conjunctions
Interjections
NOUNS will be the first to expose.
NOUNS
What is your idea about Noun? It names people, things, places? Yes, It's correct.
Look around you! You can mention the name of things, people, places around you. Do you see table? plate? chicken? your mom? bedroom? Everything you see, you can name. It fits the above definition that NOUN names people, things, places, or ideas.
HOWEVER, you must note one thing. NOUNS are "WORDS" that name people, things, places, or ideas. They are not actually people, things, places, or ideas.
When I read an article in www.english-grammar-revolution.com about NOUN, the author claimed that his students encountered some problems in recognizing NOUN. They were not really clear on the whole "word" thing. This happened to my students too. So, let me make this clear.
Choose the noun from the following pictures.
Picture 1
Picture 2
Picture 3
Picture 4
If you choose Picture 1 and 3 on the left are NOUNS, you are correct. Why? It is first and foremost that NOUN is a WORD.
If you guessed that the one on the left is a noun, you are correct. Why? Well, what is a noun? It is first and foremost a
word
. Notice that while the image of the duck is the cuter of the two, it is not
naming
a duck. It
is
a duck.
Does that make sense?
A noun is a word, not the actual thing that the word represents
. It's kind of cool, huh?
Now, your task is to memorize the following definition.
Nouns are words that name people, places, things, or ideas.
Put on your memorizing cap and stick that sentence in there.
If you want this information at your fingertips, you can check out the
Nouns and Pronouns Workbook
.
---
The Noun Jobs
Nouns can do lots of things in sentences. They are probably the most overworked of all
eight of the parts of speech
.
Nouns have the ability to perform different functions, or jobs, in sentences.
Each time a noun is performing one of these jobs, it still fits the answer to the question,
What is a noun?
Let's look at some of the noun jobs.
1.
Subjects
are nouns that tell us whom or what a sentence is about.
Mary kicked the ball.
Mary kicked the ball.
3.
Indirect objects
are nouns that receive the direct object.
Mary kicked Jimmy the ball.
Mary kicked the ball to Jimmy.
Mary is a soccer player.
6.
Object complements
are nouns that complete the direct object.
They named the baby April.
So, how's it going? Am I confusing you?
If you feel overwhelmed, don't worry. Just keep reading and working. You'll get it. Once you start diagramming, you'll know all of this stuff without even trying too hard!
You should check out sentence diagramming if you haven't given it a shot yet. Sentence diagrams SHOW you how nouns act in sentences.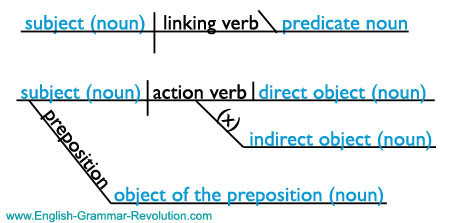 Learn how to diagram nouns
, or
learn basic sentence diagramming
.
---
Types of Nouns